I'm cheap. By necessity and by nature. For makeup this has been tricky, since my early exposure was to mid-level brands like Clinique, which have gradually grown out of my budget. At first I was hesitant to use drugstore makeup and only used a couple of highly recommended products. But eventually it just had to happen. I needed cheaper products.
I'm someone who likes a natural look, I tend to use as little makeup as possible. I've learned what has more of an impact and what I can do without. I like a look I can have finished in 5 minutes that uses only a few products.
Through a lot of trial and error, I've been able to find out which products I can't scrimp on (foundation with more coverage, under eye concealer) and what I can do cheaply (a lot more than you'd think). I don't think of myself as a makeup maven, but lately I've had a lot more compliments than usual and my only real changes have been to use more drugstore makeup. So I thought I'd share my best products, the ones I wear almost every day and get for cheap at CVS.
Face
Blogger swag is so hit and miss, but every now and then I get a product that becomes a staple. I don't remember when exactly I got Pond's Luminous Finish BB Plus Cream
but it was right when I was thinking about trying a BB Cream and it happened to be Light Shade so I figured I'd try. My fair skin has always been tricky for tinted moisturizers and other products like this, their light shade is still usually too dark for me. But it turns out this cream goes on perfectly and even in the winter when I'm extra pale it's right on. It's got SPF, a must for me. Since I've started using it, I use my pricy matte foundation less and less because usually my BB cream does the job just fine.
As you'll see in many of my other choices, I don't like powders. Powders mean brushes, which means more purchases, which means more cleaning, and I prefer to just give my hands a quick wash, use a product I can put on with my fingers, and go. So for blush I needed a new pick when I could no longer afford my favorite powder from Benefit. I did a little research for this one and ended up getting Revlon PhotoReady Cream Blush in Pinched, the lightest shade. I like just a little bit of light color, very natural, and a cream blush means I can blend it in until it's just right.
Eyes
Eye makeup is a balancing act for me, it's where I can get the most impact but it's also where I'm the most sensitive. I don't wear mascara most days because my lashes are straight and because my eyes are always more irritated when I have it on. So I make up for it with eyeliner. Because of my sensitive eyes, this has to be a super soft pencil, preferably the kind you can turn, preferably something a little smudge-able. I also like to have more than one color. I go with black most days, but blue and gray are also favorites of mine. This pick was totally an impulse buy, it's Physicians Formula Shimmer Strips Trio Custom Eye Enhancing Eyeliner Set. I needed a new liner but didn't have any good leads, and when I saw this trio of liners specifically for Blue eyes I thought I'd give it a shot. This is by far the product I get the most compliments on (my Mom asked about my eyeliner, and she's got way better makeup skills than I do) and the black liner is my go-to. The blue is a great shade. Honestly, I don't use the brown much but it's still good to have around. The downside is that this doesn't last as long as other eyeliners, so a long day requires touch ups, but longlasting eye makeup is usually too harsh for my eyes anyway. There are also sets for brown eyes, hazel eyes, and green eyes.
I hate eye shadow. It's another product that requires more product: a brush, a base, etc. It doesn't stay on well. So I have happily jumped on the eye shadow pencil trend. One product, no powder, I'm in. Initially I was getting these at sephora, but the pencils I got there were disappointing after getting sharpened. The shadow kept falling out of the pencil and the pencil didn't sharpen well at all. So I started looking for a low-cost alternative. I settled on CoverGirl Flamed Out Shadow Pencil in Melted Caramel Flame. The only problem I have with it is that they often didn't have that color in stock so I had to wait a long time to get it at my CVS. I've also purchased and love to use the blue color, Ice Flame. I tried the silver and was unimpressed. It stays on well, it doesn't crease, and the Caramel color is a nice neutral that I wear almost every day.
Lips
I recently crowdsourced my lipstick problem. I have found shades I love, but I'm so tired of reapplying. I was willing to spend more money if it meant I had a lipstick I could wear all day. Before I'd really liked Revlon's Super Lustrous Lipstick, except that it was always gone in 3 hours. But I'm really cautious about drugstore lipstick. The colors tend to be garish and unflattering. I like to have lipsticks that are colorful and bright, but also lipsticks that are just enough color to not be neutral. I was willing to do whatever it took. And then several people recommended Cover Girl Outlast. So I figured I'd give it a shot if there was any chance I could get a good longlasting lipstick from the drugstore.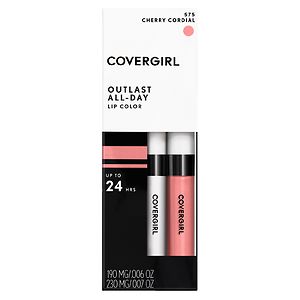 I sat down on the floor of my CVS and looked at every color. I settled on a first pick of Cherry Cordial 575, a pink hued neutral. I took a quick photo of two other colors that looked promising should I return. The Cover Girl Outlast is a two-step process, usually I hate that. But one is color and the other is a moisturizing stick. That I can get behind. Even if I don't want to reapply color during the day, my lips dry out fast and I'm often wanting to put lip balm on a few times a day. The lip color goes on a little heavy and you have to give it about a minute to dry. It goes on very matte, so the moisturizing stick helps give your lips a little shine. (I actually hate sticky lip gloss, so this is another win for me.) Sure enough, I still had lips almost the exact same color 12 hours later. Huge win. Plus the color totally worked as a neutral/light pink, it wasn't too bright or weird looking. It was the kind of hue I don't expect from a drugstore lip. I went back this week to get a second one, this time I opted for Mauve Muse 585. I still don't feel super comfortable with the bold berry shades we wore back in the 90's, even though I know they're coming back, but Mauve is a way I can have some purple without going really dark. It's great against my eyes, too. I've worn it 3 days in a row now. I've also bookmarked Always Rosy 549, which I'm considering for a brighter pink. But now that I trust this product I may have to have another sit down on the floor of CVS to really hammer out my next shade. I'm even thinking about trying something a little redder. The extra moisturizing sticks are now a bit unnecessary, but I've just chosen to put one in my bathroom makeup bag and one in my purse. The next one will probably go in my evening clutch.
And that's pretty much my makeup routine nearly every day now. Sometimes I add brows (Revlon Pencil & Gel, Dark Blonde 104) and sometimes I add mascara (I use it so rarely that I use the super cheap Maybelline Great Lash) and sometimes I go full throttle with expensive primer and expensive foundation. I do love my fancy under-eye concealer (picked out with the help of a good Sephora rep, it's from Givenchy, talk about fancy) and that's a staple, but otherwise almost everything can be done with my cheap makeup. My wallet is very happy.