If you're a parent, you don't need me to tell you how random and ridiculous clothing for kids can be. Boys must wear cargo shorts and other loose clothing in "boy" colors. Girls must wear short shorts and tight clothing in "girl" colors. It's frustrating when you're just trying to find clothes to make your kids comfortable. Especially when your kids like things that don't fall into the small spectrum of what's available.
So to make your life a little easier, I've compiled a list of what I can find in one of those tricky but high-needs clothing types: long shorts for girls. Whether it's your daughter's preference or you just hate the idea of having your six-year-old dressing like a teenager, this list should help. When there's an inseam length available, I've noted it. And if they're denim, I've noted that, too. The knit shorts are hardest to find, but there are a few on the list! These are mostly what's commonly known as "Bermuda" shorts which go near the knee. Some brands on this list may also have "midi" shorts which go mid-thigh. I did not include bike shorts.
Note: I give original price here, but most of these sites usually run discounts so you may find it's half that after you click through.
Some of these are affiliate links, which means I get a small commission if you purchase after you click. It won't affect the price at all. I tried to make the best list possible regardless. Thanks for your support!
This list is current as of April 2015. I'll update if I find more! Leave a comment if I've missed a store. Or let me know what kind of kids' clothes you'd like me to hunt down next! Presented in alphabetical order by store. (Update: Added Girls Will Be, Hanna Andersson and Walmart.)
The Children's Place–50% off with promo code PLACE3–4/20
Denim Heart Skimmer Shorts

Denim Skimmer Shorts, Girls 4-14 (with slim and plus) in 8 colors, $16.95 original price. Several prints available, including floral and plaid.
Crazy8–30% off sale running–4/20
Gap–40% off with code SUNSHINE–4/20
1969 Printed Denim Bermuda Shorts

1969 Denim Bermuda Shorts, Girls 4-18 (with slim and plus) in 4 colors $26.95 original price
Girls Will Be
Gymboree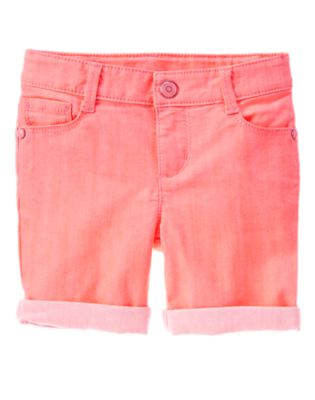 Hanna Andersson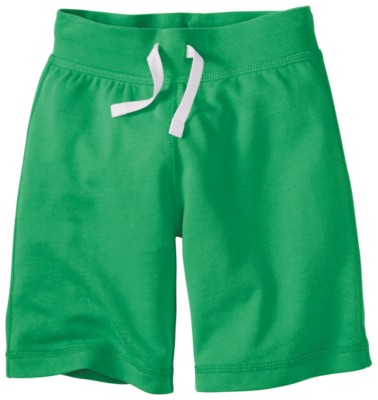 J C Penney
Arizona Bow Pocket Bermuda Shorts

Total Girl Bermuda Shorts, Girls 7-16 (Includes Plus) with embroidery in 3 styles, $30 original price.
Justice–50% off with extra 10% off bottoms with code 837–4/20
Kohl's
SO utility shorts in beach glass

SO Utility Shorts, Girls 7-16, in 5 colors. $30 original price
Lands End
Lands' End Girls' Plaid Bermuda Shorts

Girls' Print Bermuda Shorts, Girls 4-16 (Includes Regular, Slim, Plus) in Honeysuckle Pineapple, $29-$32.
Macy's–Styles currently marked down–4/20
Walmart
Check the comments for more in-store options!
Thanks for visiting Don't Mind the Mess, a blog with all kinds of stuff on parenting, Boston, and much more. Like us on Facebook, or follow on Instagram and Twitter.